Dollar Diversity
The £50 note has recently been given an update, with mathematician and codebreaker Alan Turing announced as the new face of the note. While undeniably important to have a reminder of what brilliance society lost as a result of criminalising same-sex relationships, this decision has the possibility of reigniting the debate over gender representation on banknotes.
This debate was last seen over the removal of Elizabeth Fry from the £5 back in 2013 and the subsequent campaign to reinstate a woman. This culminated with the appearance of Jane Austen on the £10 in 2017. The Governor of the Bank of England, Mark Carney, has said that banknotes should "reflect the diversity of British society."
Excluding the Queen, Jane Austen will continue to be the only woman featured on the Bank of England's notes. This got us thinking: what if we could redesign banknotes from some of the world's most important currencies to include more women?
There are currently 180 currencies recognised as legal tender around the world. Of these, 117 feature people – 88% of these people are men. When excluding the Queen, this figure rises to 91%.
We thought it time to readdress this imbalance. We found the most Wikipedia'd woman from each country selected by using the number of times each page was viewed in the 18 months between January 2018 and June 2019. This gave us an idea of who the general public considers the most important women from their country.
We have excluded royalty, to give women from all social backgrounds the chance to be considered. Living women were also discounted.
Our new concepts celebrate great women from around the world. Read on to find out who features.
UK: £5 – Boudicca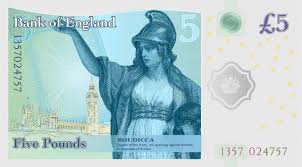 A British folk hero, Boudicca led an uprising against the Roman occupation of Britain in AD 60 or 61. After the death of her husband, the Romans annexed their kingdom and flogged Boudicca.
Outraged, Boudicca led an alliance of tribes in open rebellion against Rome. The rebels burnt and destroyed modern-day Colchester, London and St. Albans before being defeated in battle by an outnumbered Roman army.
After the defeat, Boudicca died – either of an illness or by killing herself to avoid capture. Despite this, her memory lives on as a symbol of British courage. The ultimate irony is that her statue now sits in London, a city she helped destroy.
£20 – Ada Lovelace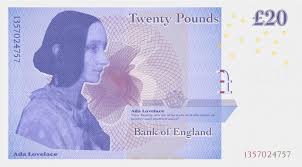 The only legitimate daughter of the poet Lord Byron, Ada Lovelace was raised by her mother to love mathematics and logic. In 1833 she was introduced to the famous mathematician Charles Babbage, and the pair became close friends.
Babbage was working on plans for an Analytical Engine, a machine that is considered one of the earliest computers. Lovelace wrote the first published computer programs to accompany an article that she had translated about the Analytical Engine. As such, she is known as one of the first computer programmers.
Lovelace was able to see the capabilities of computers beyond mere calculations, which was a rarity for her time. Unfortunately, she died of cancer at only 36, before her undoubtably huge potential could be fully realised. Shortlisted for the new £50 note, she was perhaps unlucky not to be chosen.
USA: $10 – Amelia Earhart

Amelia Earhart was one of the world's most celebrated aviators. She became the first woman to make a solo transatlantic flight in 1928, receiving a medal for doing so.
As well as being famous for her flying, Earhart is also a feminist icon. She encouraged women to reject restrictions imposed on them by society, being a member of the National Women's Party and supporting the Equal Rights Amendment. She founded an organisation for female pilots and served as its first president, inspiring a generation of aviators.
In 1937 Earhart attempted to circumnavigate the globe, but her plane disappeared over the Pacific Ocean. The lack of any resolution to her disappearance has fuelled several conspiracy theories, and speculation continues to this day.
$100 – Rosa Parks

In 1955 Rosa Parks refused to give up her bus seat to a white passenger after being ordered to do so by the driver. She was not the first person to do so, but was considered by civil rights leaders to be the best candidate for a court challenge due to her prominence in the community.
Parks' defiance became an important symbol of the civil rights movement in the United States. Her arrest led to her being sacked from her job and she continued to receive death threats for many years after the event. The bus boycott her action triggered directly resulted in the ruling of racial segregation laws as unconstitutional.
She continued to fight for justice all her life. After her death, she became the first woman to lie in honour in the Capitol Rotunda, and the third of only four Americans ever to do so.
France: €5 – Joan of Arc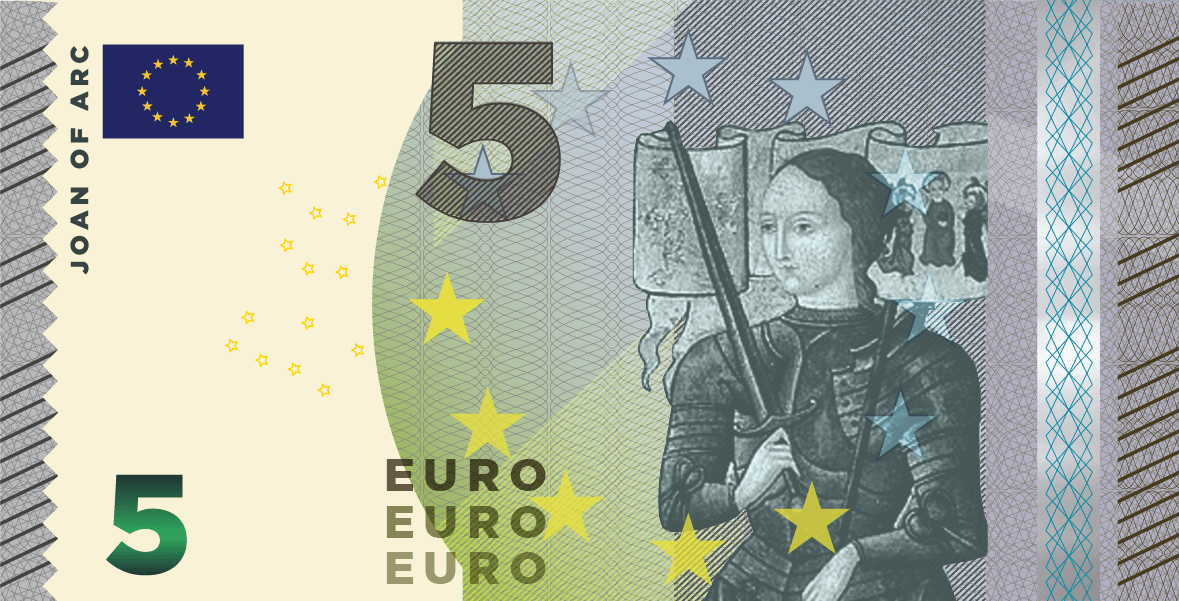 Joan of Arc was a peasant girl living in France during the Hundred Years' War, meaning at the time of Joan's birth the English had occupied most of northern France.
When she was 13 years old, Joan began to receive visions instructing her to save France from English control. She led an army to rescue the strategically important city of Orléans, which was under siege. The siege was lifted only nine days after Joan's arrival.
Unfortunately, she was captured while leading another assault and subsequently put on trial for heresy. Joan was swiftly found guilty and burnt at the stake. She was only 19. Her death made her a martyr and turned the war against the English into a popular cause for national liberation. Joan was made a saint in 1920. Her legend as a heroine of France lives on.
Germany: €10 – Marlene Dietrich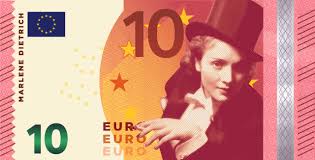 As an actress and singer, Marlene Dietrich's career spanned 70 years. In Weimar Berlin she acted on the stage and in silent films, before moving to Hollywood to make films in the 1930s.
Dietrich was approached by Nazi Party officials and offered a lucrative contract to return to Germany and make films for the Nazis. She declined due to her strong political convictions. In the late 1930s she created a fund with several other German exiles to help Jews and dissidents escape the Nazi regime.
In 1939 Dietrich renounced her German citizenship and became a US citizen. During the Second World War she performed for Allied troops and helped sell war bonds. She received the Medal of Freedom in 1947 for her wartime work.
After the war she worked mainly as a cabaret artist and singer, performing live around the world up until her 75th birthday. She died aged 90 as an enduring icon of stage and screen.
Russia: ₽100 – Anna Pavlova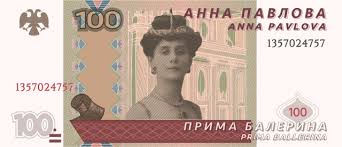 Anna Pavlova was a prima ballerina of the Imperial Russian Ballet at the turn of the 20th century. Her passion for ballet began after her mother took her to see a lavish production of The Sleeping Beauty in St Petersburg as a child.
She was accepted for the Imperial Ballet School at 10 years of age. Training was difficult as ballet did not come easily to her, but Pavlova practised relentlessly, remarking, "work transforms talent into genius."
Her most famous achievement is creating the role of The Dying Swan, a solo devised for her in 1905. After leaving the Imperial Ballet Pavlova formed her own company and performed throughout the world. She was the first ballerina to tour the world, inspiring people to take up ballet wherever she went. She died in 1931 of pneumonia after refusing an operation that would have left her unable to dance.
China: ¥100 – Ching Shih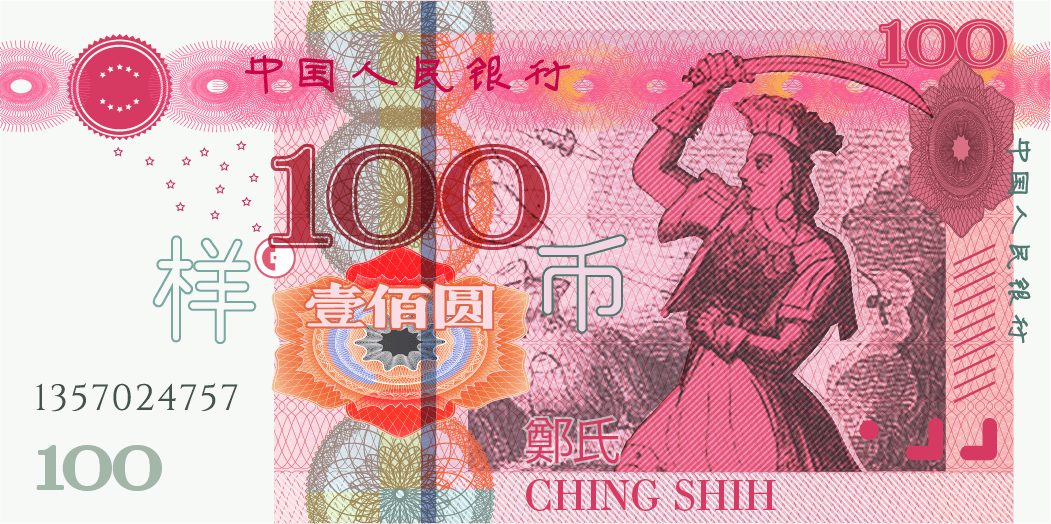 Ching Shih was born Shih Yang in Guangdong in 1775. She was working in a floating brothel at the turn of the 19th century when she married an infamous pirate, Cheng I. Ching Shih participated fully in her husband's piracy, helping to bring together rival Cantonese fleets into an alliance known as the Red Flag Fleet.
When her husband died, Ching Shih took over the leadership of the Red Flag Fleet. She united the fleet under a single code of law. This code was strict and heavily enforced, with beheading and flogging common.
Under Ching Shih's command the Red Flag Fleet could not be defeated by the Chinese, Portuguese or British navies for many years. On her eventual defeat in 1810, she accepted an amnesty offered to pirates who agreed to end their careers. She died in her own bed at the age of 69, a free woman.
Japan: ¥1000 – Tomoe Gozen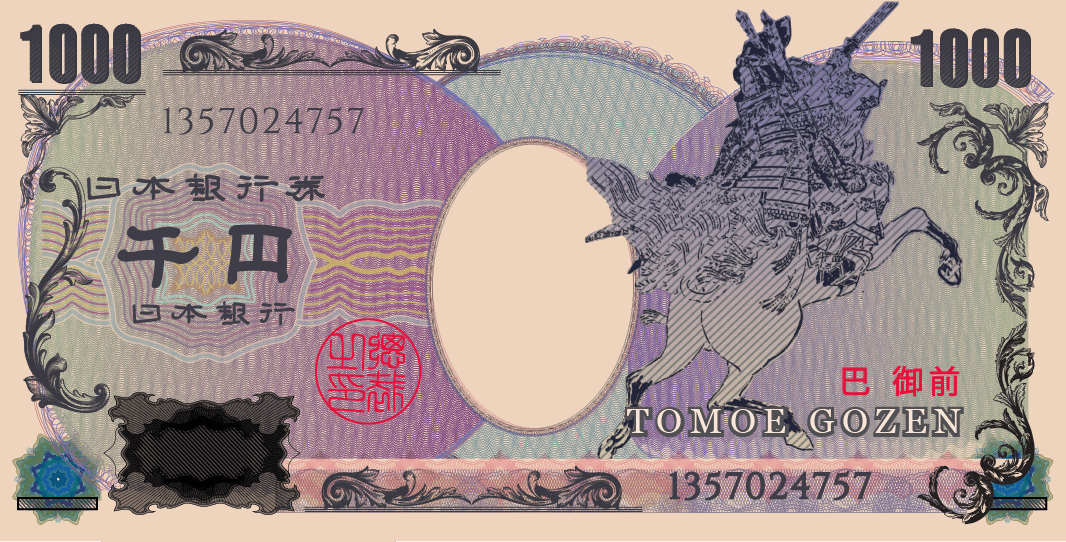 Tomoe Gozen was a female samurai considered the first general of Japan. She served in the war that led to the establishment of the first shogunate in Japan. Although details about her personal life are contested, the details about her skill as a warrior are well recognised.
At the Battle of Yokotagawara Tomoe defeated and beheaded seven samurai, at a time when collecting heads was the ultimate sign of military prowess. In 1184 she led 300 outnumbered samurai in battle against 6,000 cavalry troops in the Battle of Awazu. Although she fought bravely, her troops were defeated, with Tomoe one of only five survivors.
She was ordered to desert the battlefield by her commander, which was considered an extreme disgrace. To redeem her honour, Tomoe beheaded one final warrior. What happened to her after her last battle is unknown. There are differing accounts saying she was either forced to become a concubine, continued to avenge her fallen comrades or that she even became a Buddhist nun.
Whatever her fate, her legacy as a warrior worth a thousand lives on through the epic Tale of the Heike, which is still read today.
About Stenn
Stenn International Ltd. is a UK-based, non-bank trade finance provider specialising in cross-border trade. Stenn's trade finance solutions are comprehensive and can be combined to cover the entire supply chain from purchase order to delivery of goods. Innovative practices allow Stenn to finance in sectors and geographic regions currently underserved in global trade. The company operates globally with offices in Buenos Aires, Los Angeles, Dallas, New York, Miami, London, Amsterdam, Dusseldorf, Berlin, Mumbai, Chennai, Singapore, Hong Kong, Guangzhou, Hangzhou, Suzhou, Shanghai and Qingdao. Learn more at https://stenn.com or follow us on Twitter, LinkedIn and Facebook.