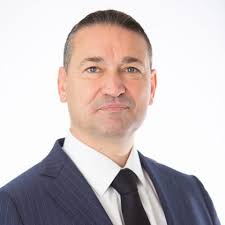 London, 2 October, 2019 – Stenn International, an international provider of cross-border trade finance, today announces Steve Box, a globally-recognized visionary in the world of trade finance, as Strategic Advisor to the Board. Mr. Box is the Founder and Managing Director of Kata Executive Consulting Limited, with over 35 years of experience building and running businesses in invoice, trade, and receivables finance.
In this role, Mr. Box will work strategically and collaboratively with the Stenn executive team to accelerate the business' trajectory toward becoming the industry leading provider of cross-border trade finance.
Mr. Box's guidance will extend to product strategy, business origination and new market development, technology deployment, operations and credit management.
Prior to joining Stenn, Mr. Box held executive positions at HSBC including Global Head of Receivables Finance, and Head of Trade, Receivables and Equipment Finance for Europe. He also served as CEO of Bibby Financial Services for Europe, Asia and North America, and Head of Falcon Group Europe.
Greg Karpovsky, Founder and Executive Chairman of Stenn, said: "Steve is one of world's go-to experts when it comes to cross-border trade finance, so we are thrilled to be working with him to take our growth to the next level.
Steve's track record of developing exceptional global organisations and generating accelerated, profitable growth will be invaluable to our business as we seek to make our ambitious vision for Stenn a business reality.
Steve Box, Strategic Advisor to the Board, said: "I am excited to work with the committed and passionate team at Stenn. Creating a fast, scalable cross-border trade finance solution is not easy, and in a short time the Stenn team has already put their forward-thinking company on a great path for success" said Mr. Box."
Founded in 2015, Stenn is already a leading provider of alternative finance, aiming to address the $1.5 trillion 'trade finance gap' that the International Chamber of Commerce says demonstrates the potential that exists to make trade more inclusive. Stenn provides fast and secure financing to global importers and exporters who are underserved by the traditional banking industry, helping to unlock capital in the supply chain.
Stenn is headquartered in London and present in over 70 countries across the globe, aiming to expand to 120. In June, Stenn secured a further $200m receivables finance securitisation with Natixis, taking the total funding raised since inception towards $1 billion.
About Stenn
Stenn International Ltd. is a UK-based, non-bank trade finance provider specialising in cross-border trade. Stenn's trade finance solutions are comprehensive and can be combined to cover the entire supply chain from purchase order to delivery of goods. Innovative practices allow Stenn to finance in sectors and geographic regions currently underserved in global trade. The company operates globally with offices in Buenos Aires, Los Angeles, Dallas, New York, Miami, London, Amsterdam, Dusseldorf, Berlin, Mumbai, Chennai, Singapore, Hong Kong, Guangzhou, Hangzhou, Suzhou, Shanghai and Qingdao. Learn more at https://stenn.com or follow us on Twitter, LinkedIn and Facebook.